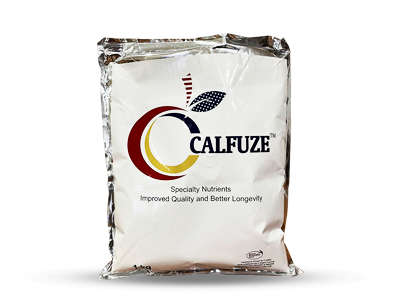 Calfuze
Calfuze is a proprietary water-soluble blend of essential nutrients fortified with encapsulated silicon.
Residue-free and certified organic (input) in Australia.
Product Type: Specialty Nutrient
Available Packing: 1 kg
Application Technique: Foliar spray
Calfuze is a proprietary blend of organically chelated water-soluble essential nutrients fortified with encapsulated silicon. It is a source of organic calcium free from nitrate and chloride which is often deficient in acidic soils and is preferred by berries and apples. The combination of calcium, boron and bioavailable silicon (ortho silicic acid) facilitates the assimilation of all other nutrients efficiently and strengthens biochemical and physiological mechanisms within the plant for improved growth even under variations in climatic conditions. Calfuze helps maintain the structural integrity of cell walls, which is vital for fruit quality and tensile strength of skin of fruits with extended shelf life.
500g/hectare/application. Under stress conditions, the number of applications or dose can be increased.
All Fruits (berries, citrus, apples etc) and vegetables.
Mix thoroughly the required quantity of Calfuze to required quantity of clean water. Add other products one by one as per recommendation and mix thoroughly.
Calfuze is compatible with most agrochemicals and water-soluble fertilisers. A "Jar Test" is recommended before mixing and application. A "Jar Test" will indicate the compatibility of different products added in water.
Apply uniformly on upper and lower plant foliage
Avoid spraying on windy or rainy days.
Keep out of reach of children.
Store the product in a cool & dry place away from direct sunlight.
Wear safety glasses and appropriate gloves.
In case of contact, flush eyes/skin with large amounts of water.
Do not pre-mix or store in diluted form.
Dispose of empty containers in accordance with local regulations.
Product Categories